Cosmetic Dentistry in Times Square, NY 10019
Optimize Your Smile: 4 Ways Cosmetic Dentistry Near Me in Times Square, NY Can Work For You
First impressions last a lifetime, and it's no secret that the smile you flash to everyone you meet in New York can make or break the first impression you make! And because we all want to present our very best selves, we do what we can to look and feel our absolute best.
Ever wonder if there are ways to improve your smile? Whether it's making your teeth whiter, having a crooked tooth straightened, covering your gaps, you are probably looking for options. Fortunately, Times Square cosmetic dentistry services offer solutions for each of these concerns and more! In addition, there are many avenues you can take to change things up when you're talking about the world of cosmetic dentistry.
As a first step to improving your smile and boosting your self-confidence, it's important to know how cosmetic dentistry near me can help you. Cosmetic dentists are specialists in restoring dental shapes and structures to improve their function, comfort, and appearance. Cosmetic dentistry is the branch of dental treatment which aims at enhancing your smile. This branch of dentistry offers teeth whitening and correcting teeth alignment and addresses many other concerns like chipped teeth and stained teeth, veneers and crowns, and other aesthetic treatments and improvements. So let's look at four reasons you might want to consider a cosmetic dentist.
Cosmetic Dentistry Can Save a Decayed or Damaged Tooth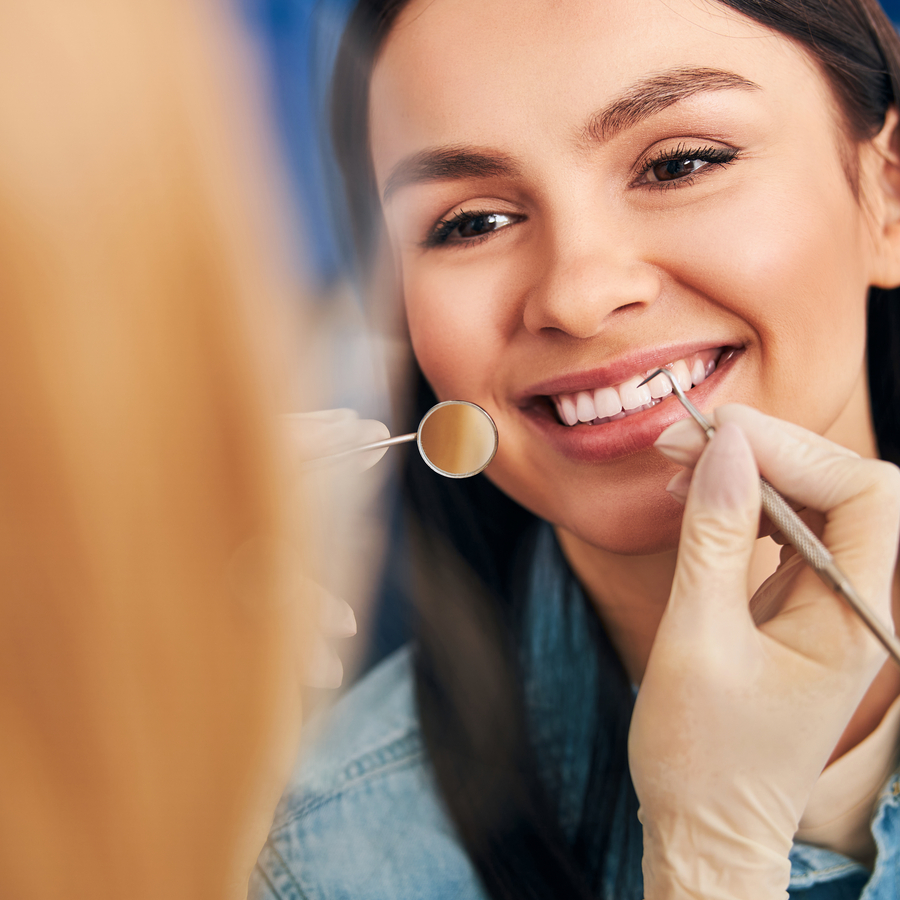 Damaged or decaying teeth can have a considerable impact on your smile, but did you know they can also affect your long-term dental health? A Cosmetic Dentistry Center in Times Square, NY cosmetic dentist, has many options to choose from to correct the issue. Composite resins can be applied to the natural tooth to save a tooth that has chipped, cracked, or shown other signs of decay. This resin is matched to the color of your teeth, so it blends in with your natural teeth seamlessly. Your dentist then bonds it to your teeth and shapes it to fit the specific problem. While missing teeth can be replaced using cosmetic dentistry, it is always best to save the natural tooth whenever it is possible. However, when the natural tooth can't be saved, a New York cosmetic dentist can still help you save your smile by using crowns or dental implants.
Cosmetic Dentistry Can Correct a Crowded Bite
The alignment of your bite (where your upper and lower teeth naturally meet) has a big impact on how you eat and how you talk. Overcrowding in the teeth is one of the leading causes of a misaligned bite and causes issues with grinding or can wear down the enamel of the teeth. It also puts extra pressure on both the teeth and the jaw. This can result in cracked or damaged teeth and an increased likelihood of developing TMJ, which can be quite painful to live with.
Tooth reshaping procedures can sometimes correct a crowded bite without having to have healthy teeth extracted. Too long teeth can be shortened, and even the overall shape of the tooth can be changed. Then bonding is added to strengthen the teeth, even out the color, and fill in chips or gaps created during the process. You end up with a seamless bite that looks great while it protects the future health of your entire mouth.
Cosmetic Dentistry Can Create a Healthier Gum Line
To achieve a healthy mouth, you must first have healthy gums. Unfortunately, there are several things your modern life in New York can cause your gums to recede, and all of them have an enormous impact on the health of both your gums and teeth. Cosmetic Dentistry Center in Times Square, NY cosmetic dentistry can correct a receding gum line with procedures like gum contouring or gum veneers.
Gum veneers are removable molds that fit over the areas of concern; this is typically a purely cosmetic solution, although it can be used to prevent further day-to-day damage. They are pretty similar to dentures as they can be removed daily and cleaned. They hide and protect the area but do not eliminate the problem. If you need or want a more permanent solution, gum contouring will offer you more than a simple cosmetic fix. Gum contouring uses a graft removed from the roof of the mouth to cover any exposed roots. Then the existing gum covers the graft and gives you a uniform appearance. This not only helps your smile look better, but it can also save you a considerable amount of discomfort or pain.
Cosmetic Dentistry Can Boost Your Self-Esteem
While all New York dentists dedicate themselves to restoring the health of your mouth, a cosmetic dentist can restore your self-esteem. After all, your smile is one of the very first things you show the world in each situation you face day after day. Whether you are worried about yellow stains on your teeth or are living with broken or missing teeth, the appearance of your smile can have a significant impact on how much confidence you have in social situations. Poor confidence in your physical appearance can harm how you see yourself. Over long periods, low self-esteem can even cause anxiety or depression. Cosmetic dentistry near me can melt away poor self-esteem and help you broadcast a fresh, confident image to the world. At Cosmetic Dentistry Center, we can help you improve your smile and improve your life.
In Times Square, a sparkling smile can make all the difference in your first impressions. But it is how you feel on the inside that matters most. Cosmetic Dentistry Center located in Times Square, NY cosmetic dentists can set you on the path to self-confidence.
Are you looking for the best cosmetic dentist in NYC? At Cosmetic Dentistry Center, we offer a wide range of services to help you create your perfect smile. Do you already have a procedure in mind? Then, call our office at 212-829-1515 today to discuss your options or book an appointment. We can't wait to help you make your smile shine!
---
Some information about Times Square, NY
Times Square is a major commercial intersection, tourist destination, entertainment center, and neighborhood in the Midtown Manhattan section of New York City, at the junction of Broadway and Seventh Avenue. Brightly lit by numerous billboards and advertisements, it stretches from West 42nd to West 47th Streets, and is sometimes referred to as 'the Crossroads of the World', 'the Center of the Universe', 'the heart of the Great White Way', and 'the heart of the world'. One of the world's busiest pedestrian areas, it is also the hub of the Broadway Theater District and a major center of the world's entertainment industry. Times Square is one of the world's most visited tourist attractions, drawing an estimated 50 million visitors annually. Approximately 330,000 people pass through Times Square daily, many of them tourists, while over 460,000 pedestrians walk through Times Square on its busiest days.
When Manhattan Island was first settled by the Dutch, three small streams united near what is now 10th Avenue and 40th Street. These three streams formed the 'Great Kill' (Dutch: Grote Kil). From there the Great Kill wound through the low-lying Reed Valley, known for fish and waterfowl, and emptied into a deep bay in the Hudson River at the present 42nd Street. The name was retained in a tiny hamlet, Great Kill, that became a center for carriage-making, as the upland to the south and east became known as Longacre.
Before and after the American Revolution, the area belonged to John Morin Scott, a general of the New York militia, in which he served under George Washington. Scott's manor house was at what is currently 43rd Street, surrounded by countryside used for farming and breeding horses. In the first half of the 19th century, it became one of the prized possessions of John Jacob Astor, who made a second fortune selling off lots to hotels and other real estate concerns as the city rapidly spread uptown.
By 1872, the area had become the center of New York's horse carriage industry. The locality had not previously been given a name, and city authorities called it Longacre Square after Long Acre in London, where the horse and carriage trade was centered in that city. William Henry Vanderbilt owned and ran the American Horse Exchange there. In 1910, it became the Winter Garden Theatre.
Learn more about Times Square.
Useful links for Times Square, NY
Map of Times Square, NY
---
Here are some dental-related links: